Architecture and History
About the Architecture
A historic suburban mansion building in Omuro.
Kyutei Omuro is nestled in Ukyo-ku, Kyoto Prefecture, an area known for the historic Ninna-ji Temple. In a corner of this area, an 80-year-old suburban mansion has been preserved in its original beauty. Stepping into the 500-tsubo (1,860-square-meter) sukiya-style property, visitors will find a world of early Showa-era (1926-1989) charm. The open-plan hall features an ajiro (woven cedar) ceiling, wooden flooring created from a single tree, and a 22-tatami mat floor-space. Beyond the large banquet hall is a Japanese garden with seasonal charm. The garden, which makes use of the slanting view of Narabigaoka hill, is lined with 15 lanterns of various sizes, and a single storey wooden tea house, Futa-an, awaits in the back. The view from the Western-style room on the second floor of the residence is equally beautiful, and the garden offers various impressions depending on the angle of view, time of day, and season. The six ceiling paintings in the Western-style room, the colorful glass of the early Showa period, and the storehouse with its air of mystery, all contribute to the sense of Japanese spirit. The old residence Omuro is well-preserved, and five of its components...(the main building, walls, storehouse, tea ceremony room, and tea ceremony waiting room) are registered as Tangible Cultural Properties. Visitors can here learn about and engage with noble suburban residence architecture of the early Showa period.
Our History
The Kyutei Omuro was built in 1937. The architect and purpose of construction of this suburban mansion is unknown. It stands quietly hidden in Ninna-ji Temple, a temple associated with the emperor, just to the south of the mansion. The history of ownership is not known, but in 1969, the property was purchased from Kihei Abe IV, an executive of a major sake brewing company who used the property as his residence at the time, before it was bought again by Mitsuo Yamamoto, president of Yamasan Seizaijo Co. Ltd, a lumber company, who still owns Kyotei Omura to this day.

Kihei Abe IV's grandfather, Kihei Abe II, is known for having sent Masataka Taketsuru, the much talked about model for the morning television series "Massan," to Scotland. In November 2016, Kyotei Omuro was registered as a National Tangible Cultural Property because of its well-preserved condition as an architectural structure and its features of suburban residence architecture completre with a tea ceremony room, waiting room, and exquisite garden views. It was published in the Official Gazette No. 95 dated May 2, 2017.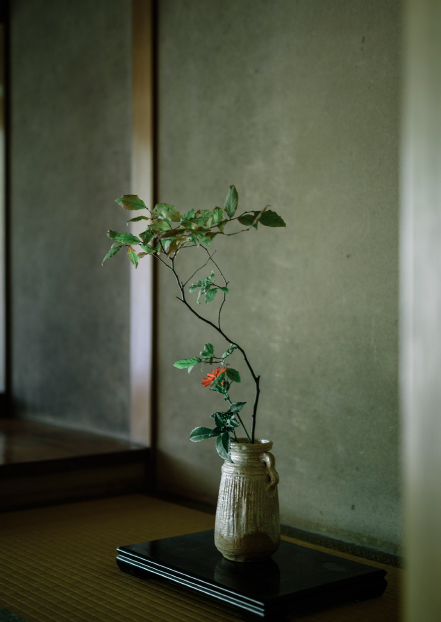 About the owner
The current owner of the former residence Omuro is Akiyo Murata, the second daughter of Mitsuo Yamamoto, the founder of Yamasan Seizaijo Co. Ltd, a lumber company located in Nakagyo-ku, Kyoto. Today, Yamasan Seizaijo lumbermill also acts as a rental and housing company that is involved in creating a prosperous lifestyle for the local community.
With the wish that "we all want to protect the mansion, which can be said to be a memento left by my father (Mr. Yamamoto)", we aim to use its value as a significant cultural asset to preserve the beauty of Kyotei Omuro for the next generation and to make it a place that can contribute to the development and prosperity of the culture of Kyoto. (The project is managed by Evans Inc.)